Welcome to my Website
I was born in the Scottish Borders and the colour and light from this area has always been an inspiration to me. My initial work concentrated on images of Scottish life and landscape that surrounded me. I look closely at the contours of the land, and I am fascinated by the patterns of fields, hedges and pathways.
As my work has developed I find inspiration from the detail of buildings, people's lives and how they interact with their surroundings. Over recent years I have been increasingly inspired by landscapes and townscapes in the Mediterranean. I find the juxtaposition between the light in Scotland and that of Italy fascinating. Through the use of colour I try to evoke a sense of the area whether it's the warmth and light of the Mediterranean or the atmosphere of Scotland.
Drawing and painting portraits has been a lifelong interest and I enjoy working in all media to produce a likeness and a feeling of the personality of the subject. I enjoy experimenting with media, mixing and layering, watercolour, acrylic and oil pastels.
Please have a browse through my various Galleries (menu at top). I have included paintings that are already sold to show the variety and range of my work.   denotes sold while   means still available. There may be some paintings for which prints are available, indicated by   followed by a price. The Available page lists all paintings and prints that can still be purchased.
Please feel free to contact me for further details (see links at bottom).
If you would like to receive occasional updates about new work and exhibitions please subscribe to my mailing list.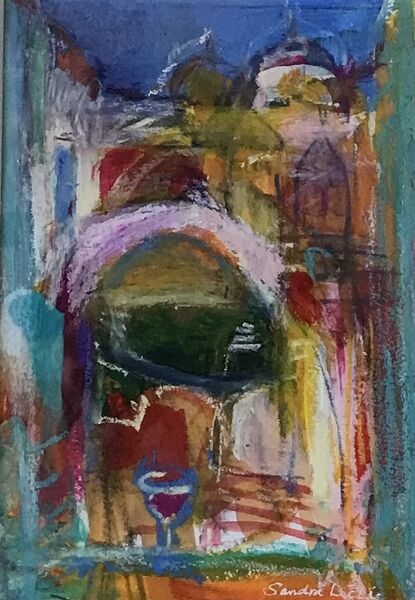 When I go back to Venice …. (Mediterranean Images)